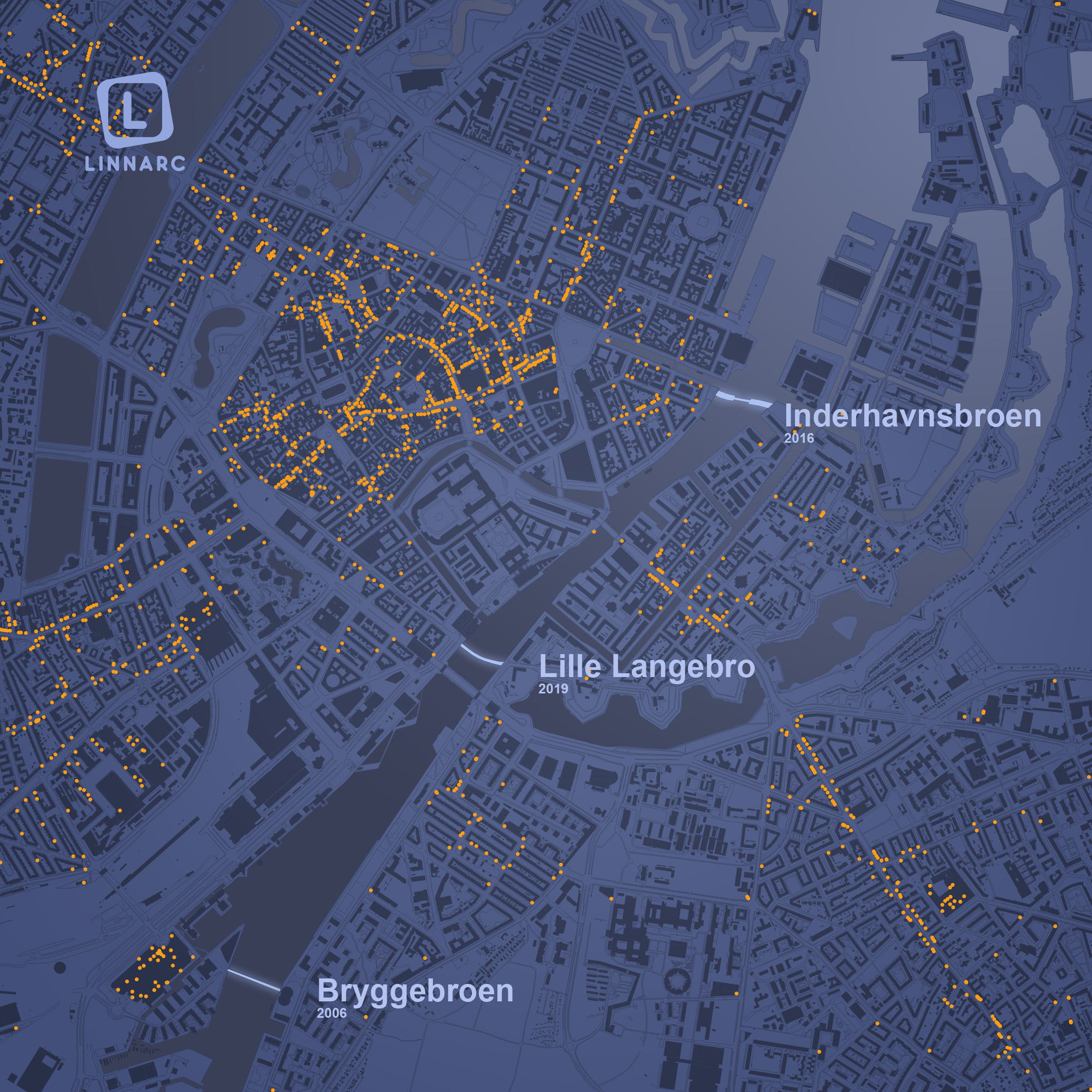 …the city that already from before was meant to be the most bicycle-friendly in the world!
With three new pedestrian- and bicycle bridges erected in thirteen years, Copenhagen has tied the two sides of the city harbour together in a most impressive way.
Bryggebroen was inaugurated in 2006, at a point when the Havneholmen and Islands Brygge developments were under way. It was designed by Dissing + Weitling, and quickly became important for the urban life now emerging in the previously so desolate harbour. At Nyhavn, Inderhavnsbroen was inaugurated ten years later, designed by Studio Bednarski. It connects Kongens Nytorv and Nyhavn with Holmen and the Copenhagen Opera House. With a rather complicated geometry and opening mechanism, its coming into being was not without complications. In 2019 then, Lille Langebro opened right next to the large BLOX building designed by OMA. With its sleek arch across the water, the bridge owes its design to firms WilkinsonEyre and Urban Agency in collaboration with BuroHappold.
Many cities can envy these developments. In twenty years, the harbour has been transformed from derelict industrial areas to one of the city's main attractions, surrounded by several large development areas. Even larger changes are imminent, with the Postbyen and Jernbanebyen projects. In all this, these small bridges play an important part. They form natural rendezvous points and contribute to the city's more fine-meshed net of paths, as well as to its future, sustainable mobility. All three bridges can be opened for passing boats.
The municipality is now investigating the possibilities for yet another bridge, two kilometres north of Inderhavnsbroen, between Langelinie and the popular destination Refshaleøen. If realised, it will enable completely new urban movements in the eastern parts of the city.
When restrictions are eventually lifted, there will be numerous reasons to travel to Copenhagen!
(The map was created using data from Open Data DK and OpenStreetMap. Orange dots depict commercial stores and venues).